June 5th, 2016 by grant
This year we went on another "big" vacation setup by Jon & Joan. They arranged for us to go to Germany & Switzerland with the family. The departure day arrived all too soon and I went through my usual dilemma, my luggage packed full of camera gear and no clothes. I slowly started the inevitable task of swapping clothes for tripods & strobes. My bag topped off at 49.3 lbs.
Monday 5/16 our Super Shuttle driver is early. This created the 1st of many stressers.
The 11-hour Lufthansa flight out of SFO to MUN was as one would expect long & boring. There were a total of three babies on board: one had a melt down, the second screamed in chorus & Gavin hardly made a sound. This would be the norm for the entire vacation. Upon arrival in Munich we discovered a switch in transportation to the hotel. Instead of a large bus it was 2 small vans. This transportation bait and switch would be a regular occurring event.
Every morning I awoke to this light fixture on our ceiling. This explains why the entire time in Germany I craved a bundt cake.
The Blauer Bock hotel was in a great location in Munich, it was walking distance to so many sights.
Dinner on our 1st night was at Wirtshaus zum Straubinger. The crispy pork knuckle was excellent and the dark beer & soft pretzels quickly became my favorite.
Day 2: Munich. Our days always began with a wonderful breakfast buffet at the hotel. The layout was quite impressive, though I forgot to photograph most of it.
Next it was on to the famous Viktualienmarkt, which is a very large open market with a huge beer garden in the center. The produce there was incredible.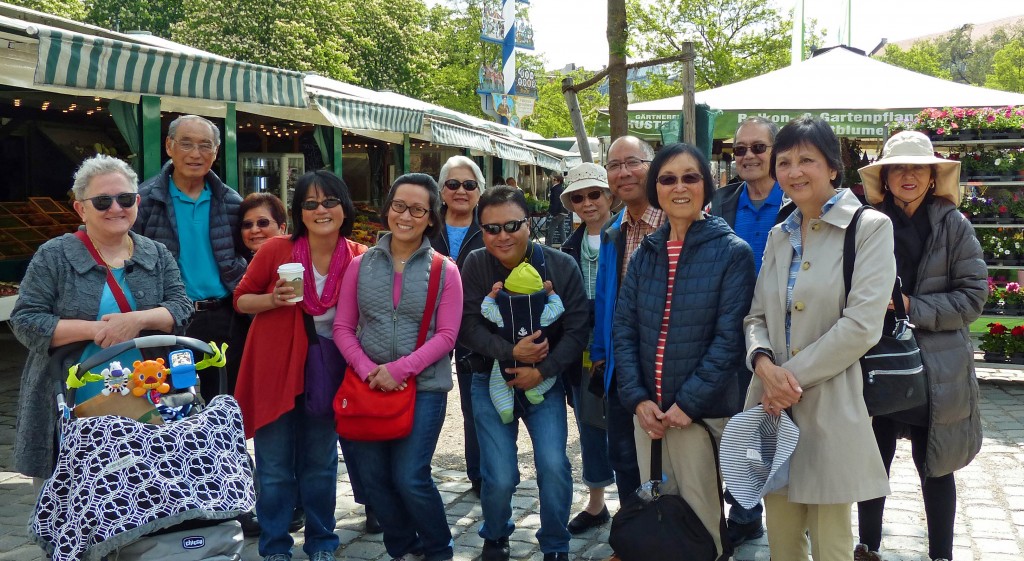 What's up with the green cheese & red eggs?
It was asparagus season and we saw it everywhere including the menus. They love their white asparagus.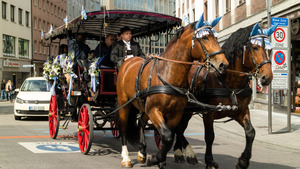 A short walk brought us to Marienplatz which is the heart of the city. We went up the New Town Hall for some spectacular views of the city and then descended to watch the Rathaus Glockenspiel.
I can't go too long without eating. Thankfully, lunch was arranged for us at the Ratskeller. I had pork cheeks with white asparagus. This would be a good time to mention the obsession Europeans had with Gavin. Everyone wanted to hold him.
After a quick nap at the hotel it was on to dinner time at Der Pschorr. The venison was so good, I'd say it was one of my favorite meals.
Day 3: Salzburg. A subway, train & bus ride brought us to Austria. This was our only bad weather day although that meant flat photos. Of special interest was Mozart's Museum. Unfortunately, no photos were allowed.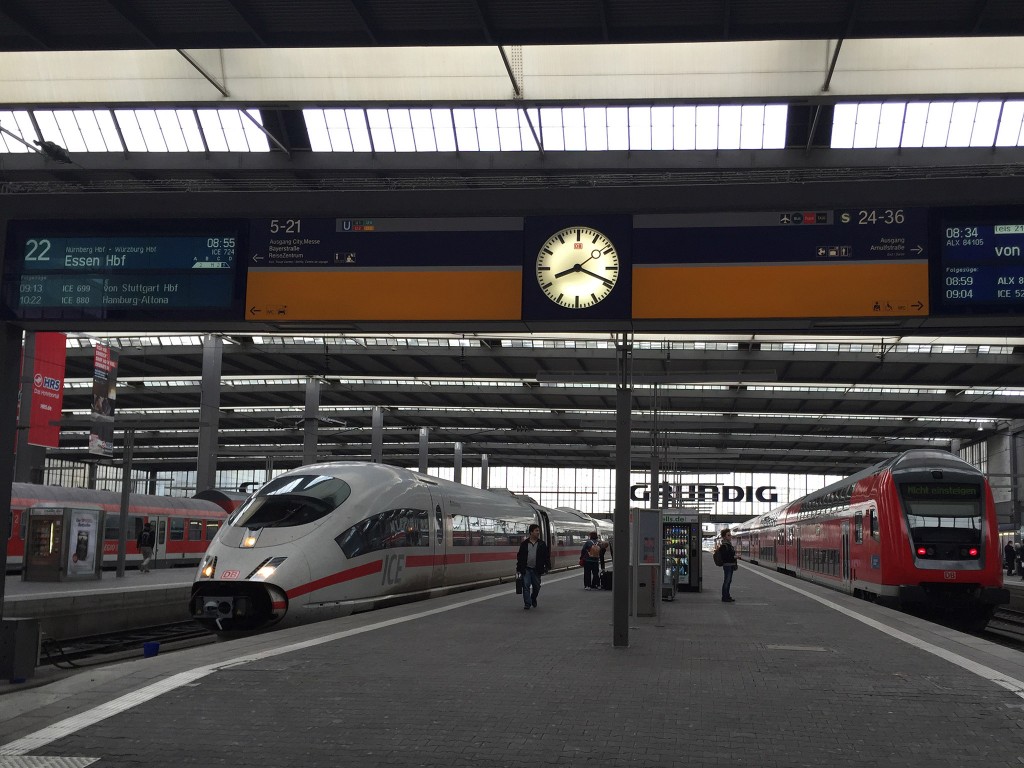 Day 4: Munich. We had a free morning. Some including Sandy, went shopping. I went with the group that had lunch at the famous Munich Hofbrauhaus. After lunch, we hopped on the subway to the BMW factory tour (no photos allowed). The robotic assembly line was quite impressive.

After what seemed like a 10-mile walk (half of us went the wrong way) we arrived at our dinner spot Zum Ferdinand. Joan was reunited with her "German daughter", Anja. She was responsible for making a lot of the reservations for us in Germany. Danke schön, Anja. Sandy loved the bacon salad.
Day 5: Munich. A 2-hour train ride and a big hike brought us to the magnificent Neuschwanstein Castle.
We had free night & decided to go off on our own for dinner. We ended up in Andechser am Dom. The place was filled with locals and as it is customary, we did the community seating thing. Duck & dark beer was in order for me. Later, our table mates warmed up to us and even helped Sandy with her meal (which mustard goes better with the sausage and sausage must be enjoyed with bread). We bought them a beer as we left.
Thanks to Sandy & Uncle Peyton for the photos.
Next stop Switzerland…