We haven't been on a vacation in quite awhile, so what better time than now to go to Hawaii…oh yeah there was Ysa & Brannon's wedding too, almost forgot.
This was a trip like none of our other previous ones. The numerous 11th hour changes was difficult, but the wedding took priority so all the other itinerary got thrown out the door and we just went with the Filipino flow.
Tuesday: The hour differential between arrival times in Kona of our Philippine guests allowed us to check out some snacks and coffee at Kona Mountain Coffee. We picked up Mommi, Ateng & Tante, then headed to our temporary home in Waikoloa where we were greeted and scrutinized by the local turkey community.
Then we dropped off Pinky & Tante at their Waimea cottage but not before we had dinner at MOA Kitchen. I've never had chicken ramen, and was pleasantly surprised.
A favorite past time is to visit the grocery store to find local food and alcohol. We've never heard of KTA so it was fun checking it out.
Wednesday: We visited the Waimea midweek farmers market for tropical fruits, abalone, snacks & followed that up with some coffee at Pele Plantation.
Tawny's flight was late so we decided to pick up Aleki & Macy when they arrived in Kona and have dinner at Umeke's Fish Market & Grill.
Thursday: As with most of these vacations, I rarely get to take landscape/nature photos. Sandy encouraged me to go out in the morning before everyone was awake. Therefore I visited Wawaloli Beach.
On the way back to the house I stopped by the local veterans cemetery to pay tribute to fellow vets.
Every trip to Hawaii requires a Malasada meal with your morning coffee. I think it's a law there (MA237). I've never had Tex's and I was not disappointed, banana was my favorite. Thank you to Sid for bringing them over.
Lunch was at the Big Kahuna in Kailua, Kona.
I had to hold Mommi's purse, so I offered to pay for lunch. Then off to Costco for some wedding supplies. I got distracted by the local stuff again…
Friday: Kiholo Beach for my morning shoot. While there, I caught a photo of the rare Hawaiian wild goat. Just kidding … there were goats everywhere on the island. I can't believe I didn't hit one on our many drives.
In the afternoon we drove up north to Kahua Ranch for the wedding setup and our first glimpse of the venue. It was stunning. We did the inside while the Silvas worked on the outside. Of course as soon as the sun set, we dropped everything and shot some portraits.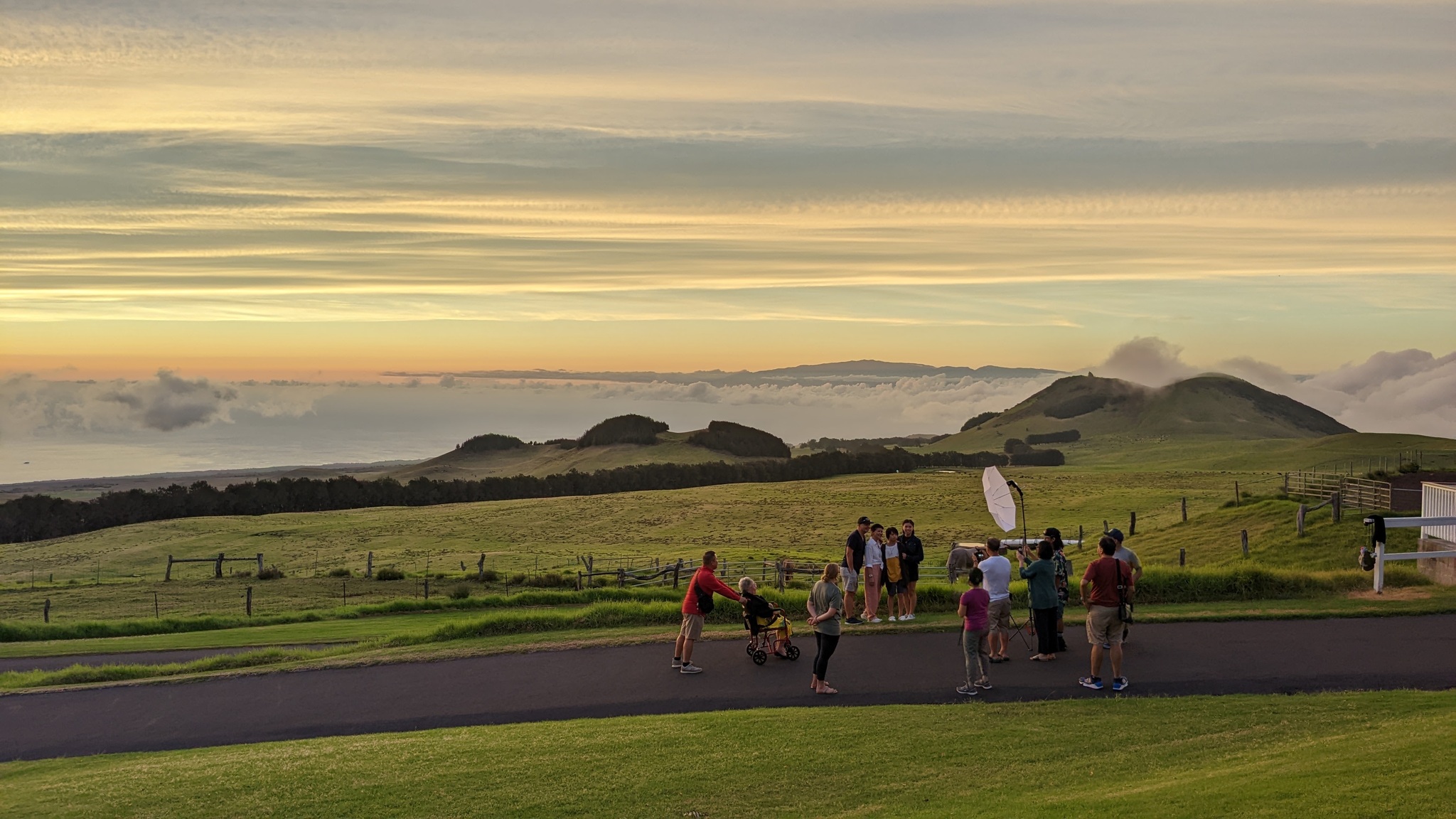 This photo from Tawny shows the magnitude of the venue.
Saturday: It's the big day for Ysa & Brannon. Ysa looked incredible and it was an emotional ceremony. I never photograph ceremonies as I feel it's rude, it's the photographer's job.
I was anxiously awaiting the dancing as that is when I can get great photos. Unfortunately no one felt the urge to dance, doh! We broke down the wedding setup so we missed the incredible sunset, but I did have to shoot portraits while we were all dressed up.
Sunday: We needed to change our housing, quick jump in the car and drive to Kamuela. Local gecko checking us out.
Our final dinner was at Kuleana's Rum Shack, which was on my list. We did a flight of rum and had a great meal, definitely one of my favorites of the trip.
While having a coffee, a nice lady overheard us speaking of turtles and she clued us on a location a mile away where there were a couple.
Monday: Sadly we had to fly back to reality. I had to photograph the adult beverages as soon as I got home.
Thanks to my family for allowing me to use their photos.