April 13th, 2014 by grant
We took a train from Greenwich to Grand Central Station (forgot to take a photo). Paz met us and immediately whisked us to their favorite Thai Restaurant, Sripraphai. We consumed a whole fried fish & with fishy breath we jetted off to the Queens Museum to watch a press conference where Mayor Bill de Blasio appointed a new commissioner of the Department of Cultural Affairs. When we arrived, Paz was invited to stand behind the mayor along with select leaders of arts organizations, we were directed to sit in the bleachers.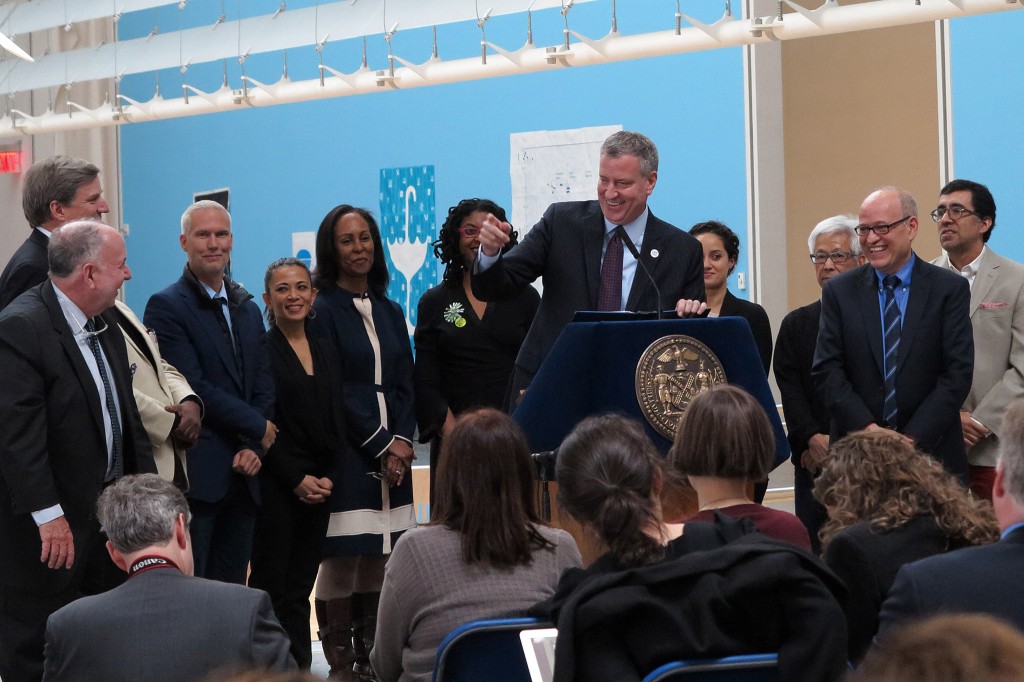 Next we had a date at the MOMA where we had a pre-dinner dessert. Then it started to rain which only means… yes, ramen weather! We stumbled into ISE and was not expecting much but the food was great.
The following day we went to the 911 Memorial. It was a somber experience to say the least. The magnitude of the memorial made it impossible to photograph properly.

Wall Street
The bull's balls are noticeably shiny. That only means that there are a lot of people rubbing them. Disturbing.
For lunch we met up with Charm an old car poolmate of Sandy's before we married (14 yrs ago). I wasn't sure I would recognize her but when I saw a woman running across the street screaming & waving her hands frantically, my question was answered. I was laughing so hard I was in tears. I wish I would have captured that moment on video. Charm brought us to a great soup dumpling place called, Shanghai Asian Cuisine. The food was excellent.
Okay get dressed we are going to the Cape Cod Chamber Music Festival Anniversary Gala at the DiMenna Center for Classical Music. But wait, there is a cool place on the way so we stopped at the High Line to shoot Paz.
Unfortunately I didn't shoot many photos at the gala. I missed the moment when Jon was petting the seeing eye dog (bad etiquette).
Our last day in New York consisted of a last minute photoshoot at Topaz Arts before going to the airport.
Start Slide Show with PicLens Lite