June 7th, 2016 by grant
Day 6: Crans Montana, Switzerland.  We took the subway to the train station to pick up our rental vans. Once again the bait and switch. Instead of three full-size vans, Hertz gave us 3 mini vans. It wasn't possible to fit everyone and their luggage in these small vehicles. Luckily, Joan was able to pull some strings and we got another small van (free) but that meant Aunty Irma had to drive. The 6-hour drive to the chalet was taxing, not to mention navigating some of the narrowest roads I've seen! But we made it and the dinner at Burger Lounge was a welcome treat. Before arriving at La Grande Baronne though, we had to brave a single lane uphill suicide road in the dark.
The 1st morning we spotted a spiral horn antelope, Sandy named her Annie. I think she was looking for her Father who was mounted on our wall above the stairs.
We also celebrated Uncle Peyton's Birthday.
Day 7: Free day. I was always one of the 1st to awake every morning. After I made myself a cup of coffee, I would enter the living room to take in this spectacular view of the Swiss Alps.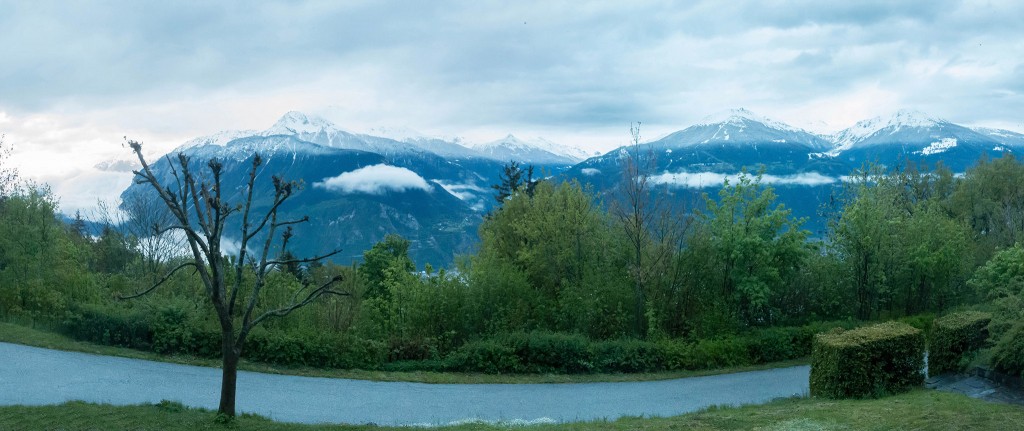 Then I'd look to the left to view Jon & Kathy's room with the growing collection of Gavin's crap bags. Next time I'll book a Motel 6.
We ate lot at the chalet and like so many other times I forgot to photograph it.
Day 8: Lunch and a tour at La Maison De Gruyeres factory.
What to do after eating cheese? Tour the Maison Cailler Chocolate Factory!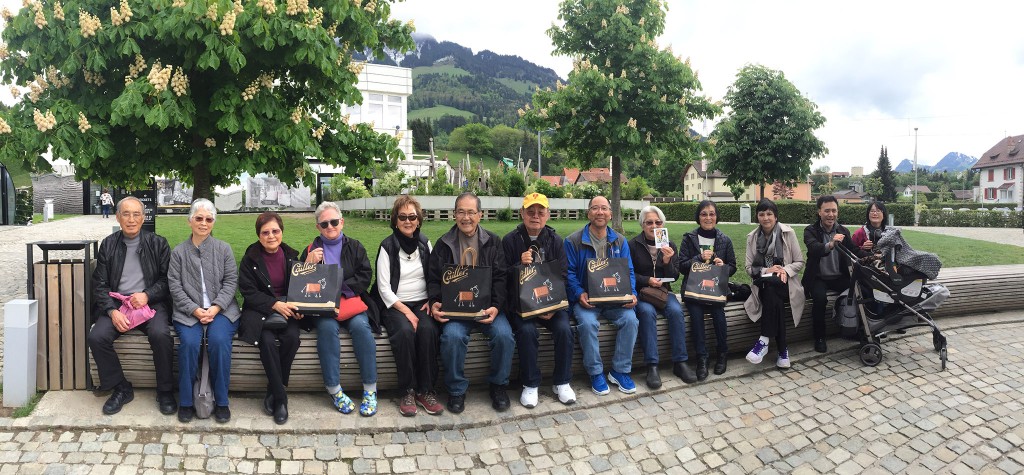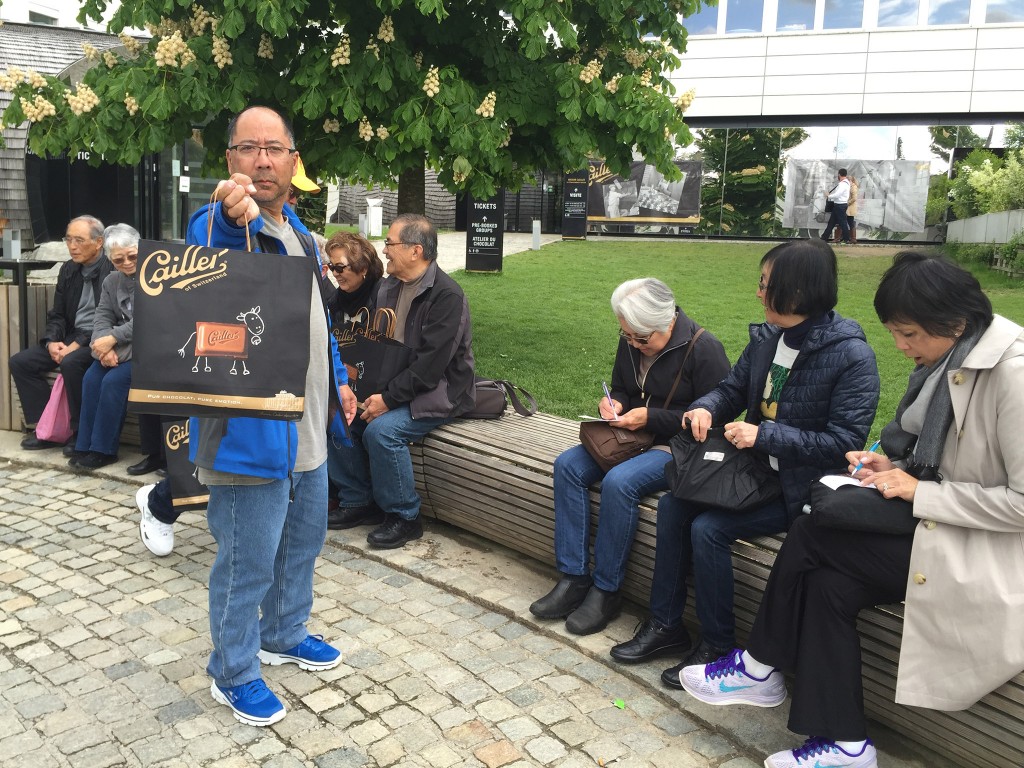 Day 9: After breakfast we took a train ride to the town of Zermatt which is set below Das Matterhorn. Lunch was at Hornli Beck, the salmon crepes were excellent.
Day 10: My turn to make breakfast or so I thought. Just minutes after consuming a croissant, smoked salmon & scrambled egg, I got a nasty bout of food poisoning. I spent the next 3o minutes barfing while Sandy stood outside the bathroom googling food poisoning.
Day 11: We drove to Montreaux to check out Lake Geneva. Who knew this city was home to Freddie Mercury?
We took the 2-hour boat cruise around the lake, which was very relaxing.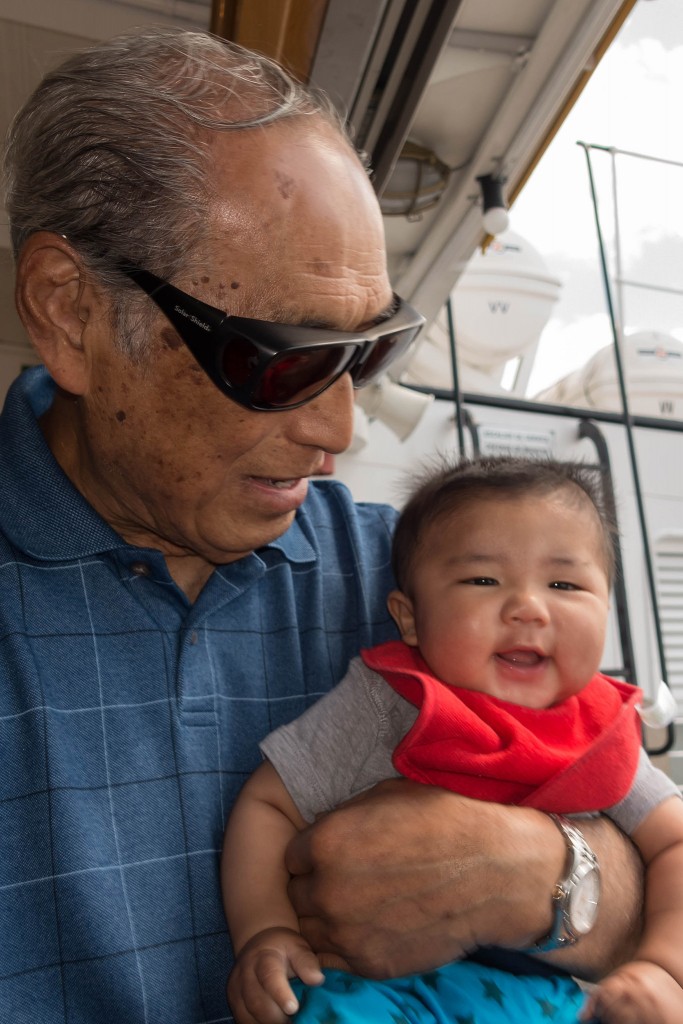 Day 12: With a free morning we made a last minute decision to jump into the jacuzzi. It was well worth it as my back was killing me.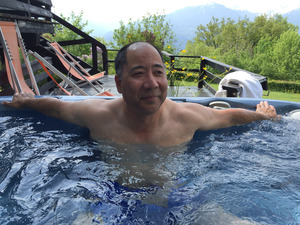 A group celebration lunch was scheduled at Le Petit Paradis. We decided to walk as the restaurant was 500 meters from the house and the weather was pleasant. Whoops almost stepped on a snake.
Our final dinner was at Cafe Restaurant Le Rothorn. I was so hungry I could eat a horse. So I did and it was really good.
Last opportunity to take a group shot.

Day 13: Travel back home or so we thought. We got delayed in Zurich and missed our connection in Frankfurt, so we had to spend the night. We never ventured out of the Inter City Hotel. The bathrooms were ultra modern but the toilet seat was too high. I couldn't live there.
After a very long flight with some inconsiderate passengers, we made it back to SFO. The Super Shuttle ride back to Alameda was the most hair raising experience, but we were glad to be home.
Thanks to Sandy for contributing photos for this posting.
I used a Sony RX100IV & Canon EOS-M3 this trip, oh and Sandy's iPhone.